Welcome to the Sun Inn, a traditional country inn
with accommodation in the heart of the Shropshire Hills.
The Sun Inn is in the heart of Clun on the High Street. Clun lies on the junction of the B4368 and A488, both quiet roads. It is 70 miles west of Birmingham, 16 miles north-west of Ludlow and 29 miles south of Shrewsbury. If you are driving to wales, why struggle on the A5 and the A44? Clun lies on the secret route to Wales through the Secret Hills of South Shropshire. If you are driving from Birmingham to the Welsh coast, then we lie half way. Clun is a pleasant place to pause, take a breath of air, enjoy an excellent lunch and perhaps rest overnight.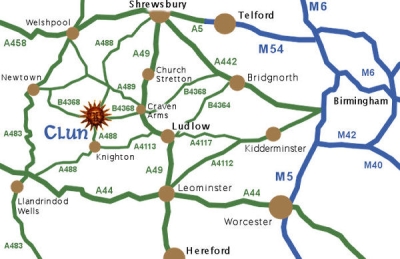 The nearest rail stations are at Craven Arms (9 miles) and Broome (7 miles). Public transport along the Clun Valley is infrequent. 
Website by River Tree Ideas